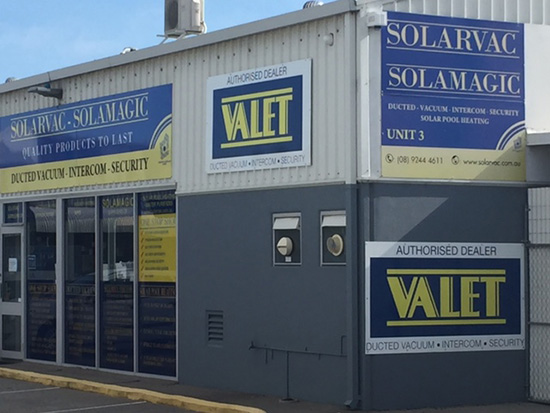 Valet Osborne Park is an authorised Valet Dealership and Service Centre and a pioneer in the ducted vacuum and home intercom industry in Western Australia, with over 35 years experience servicing generations of satisfied customers in Perth.
VALET is the name associated with quality and value for ducted vacuum and home intercom products with good reason:
No other company in our industry has our long history or experience to draw on to assist us in planning your system.
Many companies have moved in and out of our industry. Valet now service and maintain most of these systems.
We are competitive but not always the cheapest, because we will not compromise our quality standard to get down to a price. We are quoting to do your job not just to get your job.
Valet use only genuine American-made Ametek Lamb motors designed specifically for vacuum systems.
Valet's range of factory accessories is extensive and second to none.
Valet use only their own full time staff not contractors, for installation and service giving greater flexibility and control over our installations.
Ducted vacuum, home communication and security are our core business and what we do best.
OUR PROMISE TO YOU!
To provide the best equipment designed to suit your needs. To apply the highest ethical and technical standards in all our work. To quote you Valet and supply you genuine Valet equipment as quoted.
IMPORTANT
Only Authorised Valet Dealers enjoy full manufacturer warranty, support and back-up. "Supplier of Valet" does not constitute factory backup or authorised status. If quoted Valet by non-authorised companies ensure you are supplied the genuine item. If you have any queries please do not hesitate to contact us at Valet Osborne Park.